Adorable braid tutorial today. First time ever I have had a hair tutorail on my blog and I absolutely love it.
Super easy and a fun way to spice up a boring day!!!
Hey Guys! I'm so excited to be blogging over here at Julie's blog. I am Lauren from The Crafty Ginger, I am a Jesus Lover, Hairstylist & Zumba Instructor! Shopping is definitely my guilty pleasure. I love meeting other bloggers! Feel free to stop by my blog!!!
I will be showing you a "hair-to" today on how to do a hippie braid. It's perfect for those days that your hair looks cute but a little boring.

All you need is a bobby pin! You will first grab a section of hair under the top layer. Braid that piece. Bring it over to the other side of your head & bobby pin it under the top layer. You're done & you have that hippie vibe!
Happy Weekend!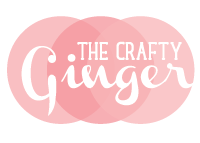 The Crafty Ginger Blog | Twitter | Pinterest | Instagram Details
What a fun tutorial right... And super cute... Thanks so much to Lauren for filling in some of my
blog break space with something so fun. Now get outta here you and go visit HER!